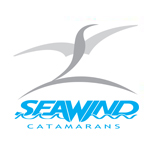 Seawind Catamarans is Australia's premiere designer of performance cruising sail catamarans, producing some of the world's best designs that are sold all over the globe. With over 30 years experience manufacturing and designing multihulls, the company has grown from strength to strength since the company's inception in 1982 when owner and Managing Director, Richard Ward, started building off the beach catamarans.
As an experienced yachtsman who has competed in the Sydney to Hobart yacht race and cruised the world, Richard Ward has built the company up from grass roots but always with a philosophy of building safe and well performing sailing boats.
In October 2010 Seawind acquired Corsair Marine, the world's foremost trailer trimaran manufacturer who has built over 1,600 boats during their 25 year history. Having spent 20 years manufacturing in North America, Corsair Marine relocated their management and manufacturing facility to Vietnam. For over 6 years Corsair have been building high performance, light weight composite boats built from fibreglass and carbon, using the latest technology including resin infusion and vacuum bagging. Seawind have relocated the production of all three Seawind models to the Corsair factory, along with their own team of shipwrights, high skilled tradesmen and management to oversee the manufacturing and to also cooperatively develop the manufacturing techniques of Seawind and Corsair.
The Seawind Group now employ over 200 staff stretching over two continents with more than 20 agents internationally and exporting to all parts of the globe. With six production catamarans and five production trimarans and the production capabilities, the Seawind Group are placed as the fourth largest multihull manufacturer in the world.
New Seawind Catamarans
Used/Brokerage Seawind Catamarans