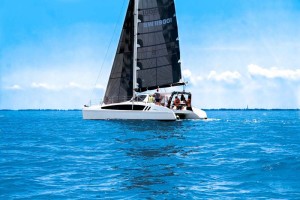 The 1190 Sport has been developed for sailors looking for performance without compromise on comfort and range. The 1190 is a variant of the popular 1160 cruising range and has been optimised by Francois Perus in collaboration with Alan Carwardine, two of the industry's leading multihull designers.
The 1190 Sport offers all the advantages of a modern sports catamaran without losing the ability to also perform as a long distance cruiser.
Features:
Daggerboards

Less drag than mini-keels (7m3 reduction in wetted surface area)
Higher pointing ability (5-7 degrees)
Shallow draft (450mm)
Lighter construction

Dagger style high aspect retractable rudders

Reduced drag
Improved performance
Positive helm feedback
Shallow draft
Beaching ability

Carbon reinforced forebeam and targa arch

Stiffer construction
Reduced weight

Carbon bowsprit

Stiffer / lighter construction

Double spreader tall Mast

Ability to carry larger sail area
Improved sheeting ability

Performance Sails

Light weight aramid cloth reducing weight aloft
Improved sail shape and performance

Construction weight reduction of 600kg (compared to Seawind 1160)

Improved power to weight ratio

Outboard engines

Significant weight reduction
No drag when sailing
No growth on legs
No electrolysis
Low maintenance & low replacement costs
Fuel stored external to the cabin
Seawind 1190 Sport Layout
The overall finish of the Seawind 1190 Sport will be consistent with that of the well known and loved 1160 range with only the highest quality equipment used throughout.
The overall concept of the 1190 sport is for a competitive sports catamaran at a level of construction, workmanship, equipment, fitout and style that surpasses any other available in the market at this price range.
Year Built

:

NEW! Contact us for pricing

Brand/Builder

:

Seawind

Model Name

:

1190 Sport

Hull Form

:

Catamaran

Hull Material

:

Fiberglass/GRP

Length Overall

:

39

Beam

:

21.3

Draft

:

3.1

Displacement

:

15,400

Propulsion

:

Twin Outboard

Total HP

:

40

Fuel Capacity

:

71

Fresh Water

:

185

Waste

:

34

Phone Number

:

Kurt: 619.571.3513

Vessel Type

:

New Sail
Charter Program Available?
:
Yes
Shared Ownership Available?
:
Yes