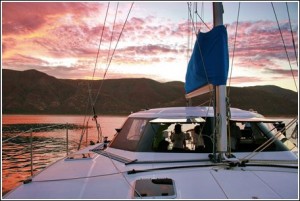 Welcome to
VELA
The Shared Catamaran Ownership opportunity you've been waiting for.
VELA is the Shared Ownership, Sail Exchange, and Yacht Management division of West Coat Multihulls. We have opportunities for you to share ownership of a beautiful catamaran in San Diego or the Sea of Cortez.
Why VELA?
If you love sailing, but struggle with the idea of the boat sitting at the dock week after week, this program is for you. If you find yourself coming to the boat to finally get away, and being stuck working on the boat instead of sailing it and playing with friends and family, this program is for you. Reservation flexibility and a top notch maintenance program reduce your stress and maximize your fun!
Shared Ownership
As a fractional owner, you can sail a newer, larger and better equipped catamaran at a much lower overall cost than individually purchasing a boat yourself.
Sail Exchange
Participating in the Sail Exchange Program allows you to trade days on your boat with other catamaran owners in any location where we have participating boats.
Charter Partnership
If you own more time on your catamaran than you need, you can offset more of your ownership costs by partnering with the charter operations of West Coast Multihulls.
Sailing Locations
San Diego
Docking your catamaran in San Diego gives you access to the Southern California Coastline, Catalina and the other Channel Islands. Visit some exceptional dock-and-dine restaurants on a trip up the scenic coastline, or head out to the islands for some hiking & diving in locations that are truly unique.
Sea of Cortez
Sailing in the Sea of Cortez is spectacular. The scenery, sea life, remoteness, and tacos make this cruising ground one of the best in the world. With our two Sea of Cortez locations you have the entire area from Cabo San Lucas to Bahia Concepcion within reach of a fun seven day trip.
If you want to sail your own catamaran for 4-8 weeks per year, while minimizing expenses and ownership costs, there is no better way to make this happen. Inquire Today! »