Doing it all – a one stop shop for EVERYTHING MULTIHULL.
WCM is engaging clients as friends, and ushering them into the world of cats and tris via:
casual day/evening sails
special events
multihull sailing school
catamaran and trimaran charters
purchasing a catamaran or trimaran of their own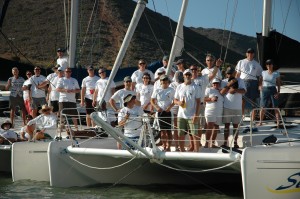 Through years of experience WCM recognizes that each sailor is on a different timeline, and a different part of the experience spectrum. We make mulithull sailing in San Diego accessible to everyone, at whatever level they desire. WCM clients get:
time on boats, on the water
socializing with other sailors
personalized instruction
value-added instruction and mentoring beyond normal ASA guidelines
charter opportunities on a variety of cats and tris
a customer service experience unlike anything else in the industry (more like family)
access to the latest models and information from a long list of great brands
And the best part is, sailors can enjoy all this right here in their back yard in SoCal, instead of traveling to the East Coast/Caribbean.

Both West Coast Multihulls Charters and the West Coast Sailing School are dedicated exclusively to catamarans and trimarans, and offer sailors of all levels the opportunity to explore San Diego and other Southern California destinations, and further develop their sailing skills. "With the continuing rise of multihulls in the marketplace and the broad appeal of these designs, we jumped at the obvious opportunity," explains WCM President Kurt Jerman. "Sailors are drawn to the ease, comfort and speed of catamarans and trimarans, and are looking for a place here in California they can get get their feet wet."
Or rather, not. Part of the appeal of catamarans and trimarans is level, relatively dry sailing, despite the increased speed the boats are capable of. WCM is the authorized dealer for a broad range of cats and tris covering the full spectrum from beachable sport boats to trailer sailers to blue water cruisers. The San Diego fleet is comprised of a mix of these boats from some or all of WCM's lines: Seawind, Fountaine Pajot, Gemini (Performance Cruising), and Corsair. "Sailors can learn aboard the very same vessels they will be chartering down the road, so there's great synergy between the operations," explains Jerman. "Our ASA-certified instructors and charter captains are all long-time multihull sailors, and know these boats inside and out. Guests and pupils have a great time, whether they're here to learn or just relax."
West Coast Sailing School offers a variety of American Sailing Association (ASA) classes, covering the entire range from ASA-101(Basic Keelboat) through ASA-114 (Cruising Catamaran).
West Coast Multihulls Charters offers San Diego bareboat charters, skippered charters, day sails and tours, and even the option to use any of their catamarans as a boat bed & breakfast. Rates vary and flexibility is key. "We realize that our guests, whether local San Diego sailors or flying in from across the country, might only have a weekend to explore San Diego Bay, or maybe a full week to go out to Catalina with the family," adds Jerman. "We want to make sure we accommodate all these different needs, and plan to have a boat and itinerary to suit them all."
For more information, visit our other site: Charter-Catamaran.com