This new brand by Group Beneteau, inspired by racing perspective but meant for cruising pleasure, is young, innovative and eye-catching. Aft helm stations allow best sail visibility and connection to the water, as well as lower boom height for greater sail efficiency, aesthetic value and access. Onboard spaces are optimized for movement, entertaining and toy stowage, anticipating sailors seeking the more active side of the sailing life. Kurt and Denison Yachting are proud to introduce you to these catamarans as the first North American dealer.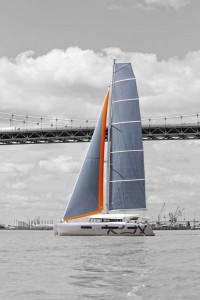 The EXCESS 15 offers balanced and attractive lines, with a contemporary interior that's bright and open to the exterior. Similar to the other models in the EXCESS range, the 15 breaks the classic sailing mold, designed with both a modern and sporty aesthetic. Racing design for a cruising purpose.
Designed for all those who dream of a cruising catamaran which offers crisp and sporty sailing sensations, her latest-generation rig promise beautiful sailing and a feeling of pleasure at sea. This super high aspect ratio rig, pulse line (a boosted rig to get + 10% SA/DSP), signature textile lifelines with fluorescent plaits, Dyneema steering cables to improve responsiveness and sensitivity, titanium coated aluminum stanchions and cleats – are some of the details that provide a thrilling sail.
From either the port or starboard helm, views of the sails, sea and bow are in great supply, while the sliding sunroof on her aft deck allows you to set the mood.
Excess 15 Catamaran Layouts
3 cabin, 4 cabin and 6 cabin layouts
Year Built

:

New! Ask for Pricing

Brand/Builder

:

Beneteau

Model Name

:

Excess 15

Hull Form

:

Catamaran

Hull Material

:

Fiberglass/GRP

Length Overall

:

48.4

Beam

:

26.3

Draft

:

4.6

Displacement

:

40572

Mainsail Area

:

1124

Working Headsail Area

:

592

Propulsion

:

Twin Diesel

Total HP

:

114

Fuel Capacity

:

274

Fresh Water

:

126

Waste

:

128

Phone Number

:

Kurt: 619.571.3513

Vessel Type

:

New Sail