WELCOME ABOARD the EXCESS 14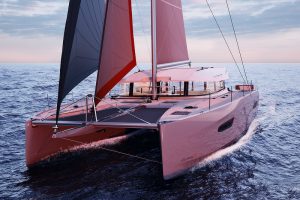 This catamaran is the outcome of innovative architecture and unbiased research seeking 'out of the box' solutions. The Excess 14 is designed around a layout never seen before on the market, both in the owner's version and in the charter version. More performance, yet everything you'd expect from a cruising boat: this is the challenge taken up by the Excess 14!
The Excess 14 is the pure incarnation of the Excess DNA. It is the result of dedicated design work and an meticulous execution, unique to the brand. It is a cruising yacht that is both fun and playful, with sleek lines.
THE EMBODIMENT OF EXCESS DNA
Instantly recognizable design:
Take a low boom, reduced windage thanks to lower freeboard, taut lines and redesigned hull windows, and you get a catamaran with a distinctive look! Add an aft-set coachroof, a forward stepped mast, a composite bowsprit (as standard) as well as inverted and inclined bows for more fun! Finish off with an exposed forefoot and you have a dynamic catamaran that's ready for adventure.
For more sensory feedback at the helm, you know our preference: helm stations right at the stern in direct contact with the rudders and a good view of the sails, as inspired by monohulls.
What you may not know is that visibility is optimal on board the Excess 14, through untinted windows – this is an Excess exclusive on the market! This model features optimized design of all foils, and the rudder blades have been extended! A direct steering system has been chosen, with aramid lines, for a better helm feel (because yes, it is important!)
INNOVATIVE ARCHITECTURE
Fundamental, unbiased research!
Thanks to our collaboration with VPLP design, the lines of the Excess 14 have benefited from an understanding of ocean racing. Enriched by their Expertise and cutting-edge software, this model is designed with a forward-set rig, a square-top mainsail, and a large overlapping genoa (as standard) to optimize the sail area to displacement ratio. As it was impossible to leave it at that, bridgedeck clearance was increased for better passage through the water, and the hulls designed asymmetrically to reduce interference drag.
Continuing in this innovative approach, there is also:
• A lower center of gravity
• An optimized structure (foam sandwich, carbon reinforcements, etc.)
• A new longitudinal volume distribution. At Excess, we don't do things by halves!
MORE PERFORMANCE, YET EVERYTHING YOU'D EXPECT OF A CRUISING BOAT
The Excess 14 is a cruising catamaran that also offers comfort and modularity of its living spaces. The goal was to maintain volume and good headroom, all this in a warm and bright interior design. In the hulls, you'll find wide, very comfortable beds, and bathrooms featuring separate showers. For setting off on your adventure, large and subdivided storage spaces have been created. And because there's no division between sailing and living spaces, the retractable chart table is really ingenious!
Excess 14 Catamaran Layouts:
Offered in 3-cabin Owner's Version, 4-Cabin Charter Version, and Convertible Fwd Cabin Version. All share same bridgedeck layout.
Location

:

San Diego, CA

Year Built

:

NEW! Ask About Pricing

Brand/Builder

:

Beneteau

Model Name

:

Excess 14

Hull Form

:

Catamaran

Hull Material

:

Fiberglass/GRP

Length Overall

:

45.8

Beam

:

25.8

Draft

:

4.9

Displacement

:

25,794

Mainsail Area

:

850

Working Headsail Area

:

420

Propulsion

:

Twin Diesel

Total HP

:

90

Fuel Capacity

:

106

Fresh Water

:

178

Waste

:

42

Phone Number

:

Kurt: 619.571.3513

Vessel Type

:

New Sail