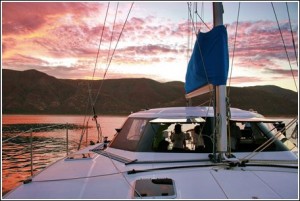 Boat syndication (also known as shared ownership, fractional sailing, etc.) has been around for nearly as long as recreational boating has, but more recently it has become a popular means for sailing enthusiasts, who don't necessarily know one-another, of owning a new boat. Why?…because unless you have plenty of time and money available, having a new boat sit on a mooring that is not getting used as much as possible is difficult to justify for many people. So by sharing the costs with other like-minded people and subscribing to a rotating calendar, you get the best of both worlds. A new boat, with regular use at a fraction of the cost!
Using an economical self-management model, West Coast Multihulls facilitates the formation of the shared ownership group by suggesting usage guidelines, an online calendar time schedule, maintenance program, and finding an easily accessible location for the boat to be kept. Once we get the ball rolling, the owners collectively share the purchase cost of the new boat and its ongoing running expenses which are both very affordable…then its time to go sailing!
Catamaran Shared Ownership FAQs:
What is shared ownership/fractional sailing?
Catamaran shared ownership is simply a partnership between 2-8 boat owners who share the outright cost of a new catamaran, along with ongoing costs.
When can I use my boat?
The yearly usage is divided equally into weekly or monthly allotments, however if the boat is not being used and it is not your week, you are encouraged to use the boat by contacting that shareholder and arranging it through them. The major holidays are rotated between shareholders on a yearly basis.
Can I sell my share?
You can sell your share whenever you like with the only stipulation being that it is offered to the other shareholders first. West Coast Multihulls can also help you sell as we have interested clients talking to us regularly.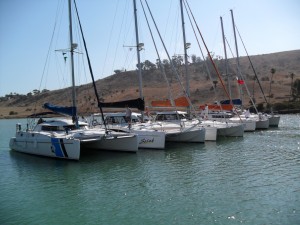 Who maintains the boat?
The boat is maintained by the group, however West Coast Multihulls is only a phone call away to offer any advice needed. West Coast Multihulls can also package some maintenance services for your convenience.
How long does my share last?
You own your share of the boat so your share ownership will continue until such a time that the boat or your share is sold.
Where is the boat kept?
Each boat is kept where it is convenient for each group. Most will be in the San Diego area, but some owners may choose locations in Mexico or elsewhere.
Where can the boat be sailed?
The boat can be sailed wherever you like. If it was to be sailed on an extended trip, all the shareholders would have to agree prior to departure.
What are the ongoing costs?
A yearly budget is suggested for each boat and divided by the number of shares. This includes Marina fees, antifouling paint, insurance and all other expenses. There is no management fee.
What happens if the boat is damaged?
Each shareholder is responsible for any damage they cause to the boat whether it is only minor or if an insurance claim has to be made.
How do I join/form a group ownership?
Talk to Kurt to learn more about this exciting program. Contact Us for more information.