Date/Time
Date(s) - 08/21/2014 - 08/24/2014
All Day
Location
isthmus cove
Categories
Join WCM and a pile of Catamaran owners to explore Catalina's Two Harbors area, have a few parties, a little racing, lots of good times.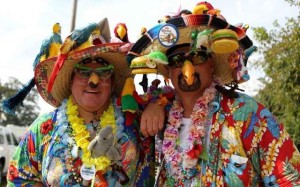 Have you even been to a Jimmy Buffett concert and spent an afternoon tailgaiting in the parking lot? If you haven't, well you've missed some real craziness! And sine we multihullers are considered crazy by most sailors, we thought we would throw our own Jimmy Buffett "Sailgate Party." Come join all your multihull friends and have a great fun-filled weekend at Two Harbors, Catalina. Sign up today!
Dates: August 21-24, 2014
Cost: $75/person if you register before August 1.
$90/person if after that, so don't delay! REGISTER TODAY! >>
NOTE: Rally fees DO NOT include mooring fees.
Too much fun to list here. Check out pics from last year here >>
Details:
Thursday: 5pm. Impromptu Cocktails and Appetizers at the Harbor Reef.
Reconnect with all your Seawind and other multihull friends and catch up on past adventures. Meet up on the back deck at the restaurant. Kurt will get the apps started…
Friday: 9-11am. Bloody Mary Morning Talk Show.
Continental breakfast with Bloody Marys and/or Mimosas will be served at the Isthmus Yacht Club. There will also be an exciting presentation on multihull sailing and adventure.
Friday: Afternoon. Games on the Beach, etc.
Those who need to work off their lunch can enjoy an energetic game of volleyball on the beach. Those of us with a little more sedate vision of cruising might engage in a game of horseshoes or ladder ball. There is also the option of a reall low impact activity of taking a Hummer Tour of the Isthmus. Or maybe a dinghy raft up/paddleboard armada?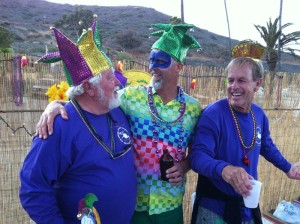 Friday: 6pm – ? Dinner on the Beach.
This year Kurt and his crew of pit masters will be whipping up a great "Jimmy Buffett Sailgate Party" with cheeseburgers, sides and dessert, along with great libations and more than a touch of Parrot-Head madness. There will be live music if the band boat doesn't sink first. Dress in your best Jimmy Buffett themed garb, and let the party begin!
Saturday: 11am. Pre-Race Photo Op
All boats will slip their moorings and meet outside the mooring field in Isthmus Cove, in a tight but safe formation for the annual group boat photo. This is where we create the spectacular photos of the entire fleet sailing under beautiful skies with big smiles on our faces. So fake it if you have to.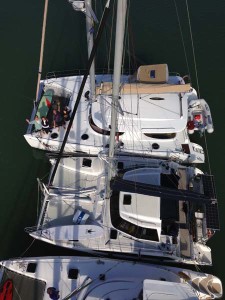 Saturday: High Noon. Race to Cat Harbor.
This year we will once again be racing around the West End to Cat Harbor. This is a fun race, with distinctly NOT fierce competition, so don't be afraid to jump in. On arrival to Cat Harbor, we will raft up in the back of the anchorage near the dinghy dock. Kurt will direct traffic via VHF if his batteries last that long. We will be keeping activities to a minimum as the intense race action typically results in an afternoon nap for most. The evening activities will be impromptu appetizers and drinks on the boats.
Sunday: Sometime in the Morning. Sail Around the Backside to Avalon.
Those that need to return to the real world can cast off for ports near and far, and those lucky ones who have shed the chains of civilization can stay until the money runs out. But for those on their way, join us for a welcome stop in Avalon for Sunday night, where there are plenty of dinner options and more fun.
NOTE: This is a tentative schedule, and subject to a lack of enthusiasm and/or immediate modification by management.
Contact Kurt for more info.