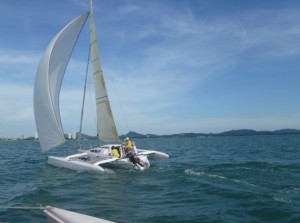 The sailboat racing culture in San Diego is world-reknowned, and continues to evolve to include more multihull-friendly racing events. West Coast Multihulls and a number of Corsair trimaran owners have been working hard behind the scenes to develop racing opportunities and enthusiasm for these new events.
WCM comes by this Corsair interest naturally, as Kurt Jerman was both Sales Manager and General Manager for Corsair Marine when the company was building boats just down the road in Chula Vista. There's probably not another person in the US who knows more about these boats, inside and out, and how much fun they are to get out on the water in a fresh breeze.
But it's not all about racing, either. Corsairs are great boats to cruise, and simply daysail for the pleasure of speed and friendship. West Coast Multihulls wants all Corsair owners to feel part of a growing group of sailors finding ways to get out and have fun on their boats. This page will become a hub for these events, including photo galleries and videos from participants. Feel free to send shots to us, or post them to our facebook page.
Below is racing class information for all Corsair models, as well as correction docs and other things you will need to get set up to race. Let us know if you have any questions. We look forward to seeing you on the water!
For more info, please contact
kurt@westcoastmultihulls.com
| Boat Type | Description | Rating |
| --- | --- | --- |
| F-24MKI | Conforms to F-24MKI Class Rules | 99 |
| Corsair 24MKII | Conforms to F-24MKII Class Rules | 84 |
| Corsair 750 CLASS | Conforms to Sprint MKI, Sprint MKII, Dash 750 Class Rules | 33 |
| F-27 Stock | Conforms to F-27 Class Rules | 60 |
| F-27 Formula | Conforms to Formula 27 Class Rules | 48 |
| Corsair 28 | Conforms to Corsair 28 Class Rules | 30 |
| Corsair 28R | Conforms to Corsair 28R Class Rules | 21 |
| Corsair 31 Original | Has standard inboard cassette rudder and fixed 40′ mast with pinhead main | 6 |
| Corsair 31 UC and Cruiser | A standard Corsair 31 interior with enclosed head, factory molded galley with sink, stove and fullinterior fabric liner, aluminum mast, stainless steel rigging | -21 |
| Corsair 31R | Has an outboard rudder and rotating mast | -30 |
Corsair Race Documents (PDFs)
2012 Corsair Nationals Rating Certificate Application
2012 Corsair Nationals Hull Declaration
2012 Corsair Nationals Sail Plan Declaration
For more information on Corsair events, boats and the company itself, check out their news feed.