Gigspace H2O might be the only pre-owned Bali 4.3 for sale in the United States. Although she is a 2016, she was built with some of the improved 2017 features including the offset helm from the mast giving the captain much better visibility than the standard 2016 model. For buyers looking to offset the cost of boat ownership, she makes a great catamaran charter vessel. She is currently professionally maintained and chartered via West Coast Multihulls. The Bali 4.3 is a revolutionary cruising catamaran with many unique innovations. She is characterized by a having a single area cockpit/saloon, with a totally flush deck of approximately 322 square feet, entirely free of bulkheads, and accessed by a huge glass door which is entirely retractable on electric struts. Come take a look!
This is a proven performer in the WCM San Diego Charter fleet, and we're hoping the new owner will choose to offset their cost of ownership by continuing with the charter relationship. Check with Kurt for financial details and history.
From Cruising World, 2016:
"They deserve kudos for innovative thinking," said BOTY judge Alvah Simon. "They're trying to break down a lot of established parameters and paradigms in catamaran design, and in doing so have introduced several very, very interesting ideas."
Especially in terms of form and function, the Bali 4.3 — with an emphasis on an open floor plan, the maximum utility of onboard space and plenty of related creature comforts — is about being there. I mean, sure, a Harley-Davidson will get you to all of the United States' wondrous national parks. But once you've arrived, what you want for a base camp is a loaded RV.
That's where this new yacht comes in, because when it comes to kicking back, the 4.3 Loft is locked and loaded.
This is evident in the central feature of the Bali, the rather elaborate drop-down transom and lifting overhead door that converts the deck layout from a compartmentalized cockpit and main saloon into loft mode, which entails a wide-open indoor/outdoor patio and porch with a straight-line galley all the way forward.
Forward of that unusually located galley, the big front picture window also opens, further obscuring the delineation of inside and outside spaces; in fair weather, it allows a coursing fresh breeze throughout the boat. And the builders still weren't finished, as the area all the way forward, between the hulls and right up to the bows — where you'd find the trampolines on traditional cats — has been decked over and furnished with cushions and settees. For a sailboat, it gives new meaning to the term "sun deck."
Contemporary cat builders have given a lot of thought to accommodations, and especially to making them as roomy and comfortable as possible. Take the stateroom on the Bali 4.3. Thanks to three opening ports, there's an abundance of natural light and ventilation. The ample berth has side access, and there's a nice shelf for books and knickknacks. On a yacht with abundant creature comforts, this space is certainly in keeping with the overall theme.
Bali 4.3 Catamaran Layout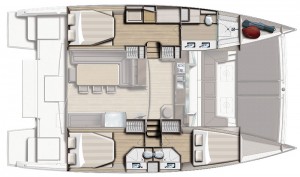 Location

:

San Diego, CA

Price

:

$559,000

Year Built

:

2016

Brand/Builder

:

Catana

Model Name

:

Bali 4.3

Hull Form

:

Catamaran

Hull Material

:

Fiberglass/GRP

Boat Name

:

Gigspace H2O

Length Overall

:

43

Beam

:

23.4

Draft

:

4

Displacement

:

22000

Mainsail Area

:

560

Working Headsail Area

:

425

Propulsion

:

Twin Diesel

Total HP

:

100

Fuel Capacity

:

211

Fresh Water

:

211

Dinghy

:

Not included

Phone Number

:

Kurt: 619.571.3513

Vessel Type

:

Used-Brokerage Sail