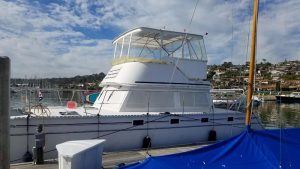 The PDQ 34 is very economical to operate, maneuverable, carefully and strongly built, and makes intelligent use of generous interior space. It's easy and safe to get around belowdecks as well as topside. As with most catamaran designs she is bright and airy inside, and a good sea boat. Workmanship is top notch, from the stainless steeling railings topside to the inlaid cherry soles and flawless fiberglass tooling below. Additionally, there is a fuel tank that holds 114 gallons aft and one that holds 70 forward, and has a pump that gives it the capability to transfer between the two.
Perfect for a liveaboard or long weekends with the 2 large staterooms, both with queen size beds. Large u-shaped salon easily and comfortably fits 6. Lots of ample storage with cabinets, drawers and shelves throughout. Full engine controls at both the cabin and flybridge helms.

Performance
The PDQ 34 has twin, semi-displacement hulls with radiused chines and flat sections aft that transition to an axehead shape aft to create a vertical surface for the shaft log to pass through. With 110-hp Yanmar inboard diesels, the boat easily reaches 13 knots and cruises comfortably at 8 knots.
The PDQ 34 engine sound enclosure for a quieter ride.
The engines are contained in a soundproof compartment that's fitted with acoustic insulation to absorb engine noise. This enclosure also acts to reduce the area volume in which sound waves can rebound and resonate.
While air exchange is essential in the engine compartment, any opening will compromise soundproofing. This is resolved by having a hollow fiberglass lid with openings to allow air circulation. The lid is lined with a labyrinth of sound absorbing materials that baffle the noise and diffuse the sound waves as they travel from the engine compartment.
Both the rear removable panel and the front enclosure are sealed with foam gaskets and are lined with high-tech acoustic insulation to further limit noise from escaping. The result is a substantial reduction in noise. Of course, all this is done without sacrificing good access to the engines.
Location

:

San Diego, CA USA

Price

:

$199,000

Year Built

:

2002

Brand/Builder

:

PDQ

Model Name

:

Power Cat 34

Hull Form

:

Catamaran

Hull Material

:

Fiberglass/GRP

Boat Name

:

West End Express

Flagged

:

USA

Length Overall

:

34.5

Beam

:

16.9

Draft

:

2.4

Propulsion

:

Twin Diesel

Total HP

:

220

Fuel Capacity

:

184

Fresh Water

:

80

Waste

:

45

Dinghy

:

yes, with 9.5 HP Nissan

Phone Number

:

Kurt: 619.5713513

Vessel Type

:

Used-Brokerage Power