The Weta is pure sailing enjoyment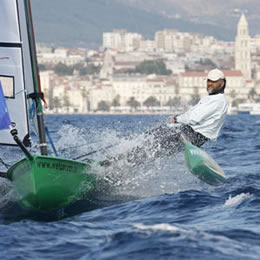 Only a WETA can pack up small and can be sailed with one, two or three sails blazing by one, two or three people! No wonder it was Boat of the Year in 2010!
The Weta is a 14.4 foot fibreglass/foam composite trimaran with a boomless main, jib and roller furling gennaker. It can be sailed single handed or with four people. When rigged it has a beam of 11.5 feet, but when put away on it's beach trolley the beam is just 5.6 feet.
It was designed as a boat that one person could easily manage on their own – from rigging to sailing in a blow – yet still enjoy performance sailing. There are minimal control lines and it is quick and easy to rig from scratch by one person. Today the Weta is used in an incredibly versatile way – ranging from top one design racing, family day sailing, a sailing resort boat and for adult and children learn to sail.
Fun and Easy to Sail
Sail on your own terms; push the boat hard and approach speeds of 20 knots! Take it easy and you can give a learn to sail the helm, (the trick is getting it back from them!).
The stable and forgiving trimaran platform gives the best of both worlds:
Simple and Easy to own
Exhilarating Performance
Lightweight and simple, rig and launch by yourself in 20 minutes.
When it's time to go, the Weta packs down to the footprint of a Laser on it's custom fit, lightweight trailer.
Location

:

San Diego, CA United States

Year Built

:

NEW! Contact us for pricing

Brand/Builder

:

Weta

Model Name

:

4.4

Hull Form

:

Trimaran

Hull Material

:

Fiberglass/GRP

Length Overall

:

14.40

Beam

:

11.5

Draft

:

.5

Displacement

:

172

Mainsail Area

:

89

Working Headsail Area

:

34.50

Phone Number

:

Mat: 619.988.4748

Vessel Type

:

New Sail