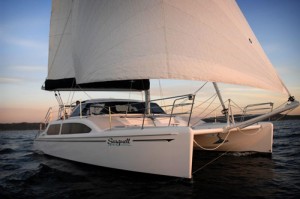 From the initial launch of the Seawind 1000 when it was awarded " Australian Cruising Boat of the Year", being the first time this award had been bestowed to a catamaran, the locally designed and built Seawind 1000 firmly marked its position in the Australian marine industry as the most successful cruising sail boat. This continued success is evident with 217 boats now complete.
Through a number of refinements and product development with the input of customers, the design has evolved into a cruising boat that represents excellent value for money, efficient performance and sea going ability, optimized short handed control and comfortable yet very practical layout for Australian conditions. Now with the new XL2 series, this classic design now benefits from a new list of refinements.
The Seawind 1000XL2 now has 10 new and significant features to enhance onboard comfort and livability for cruising couples and families.
1. Fibreglass Hardtop ExtensionThis newly designed hardtop provides more internal shade and protection totally enclosing the helm and giving full access to away sails.
2. Galley & Saloon HatchThis great innovation opens up the galley providing more light, ventilation and allows the crew closer communication.
3. Folding Saloon Timber TableA beautifully hand crafted timber table now folds in three to allow more space around the saloon seats, or a coffee table.
4. Electric Tilt MotorsPush button control to raise both outboard motors makes this boat even easier to manage for the short handed sailor.
5. Lighter Vacuum Bag ConstructionThanks to vacuume bag technology now used during fibreglassing, the displacement of the new XL2 has dropped by approx, 500kgs meaning better performance or larger load carrying ability.
6. LED Navigation & Internal LightsEnergy efficiant LED lights are now standard on both navigation lights and internal lighting.
7. Updated Galley StylingTo compliment the new galley saloon hatch, the galley has had a make over with new styled cupboards and a new optional oven.
8. New Electronics ConsoleWith all the controls at your fingertips, this new electronics console has the chartplotter and multifunctional displays plus more in an ergonomic panel.
9. Hand Polished Stainless SteelThe quality of stainless steel finish has to be seen to be believed, with all weld joins hand polisged out to seamless a part.
10. Superior Fibreglass FinishThanks to the team at Corsair, many more man hours have been invested into an all-round amazing fibreglass finish.
Seawind 1000 XL2 Layout Options:
Year Built

:

NEW! Contact us for pricing

Brand/Builder

:

Seawind

Model Name

:

1000 XL2

Hull Form

:

Catamaran

Hull Material

:

Fiberglass/GRP

Length Overall

:

35.50

Beam

:

19.5

Draft

:

3.3

Displacement

:

12,100

Mainsail Area

:

484

Working Headsail Area

:

178

Propulsion

:

Twin Outboard

Total HP

:

18

Fuel Capacity

:

26

Fresh Water

:

105

Phone Number

:

Kurt: 619.571.3513

Vessel Type

:

New Sail
Charter Program Available?
:
Yes
Shared Ownership Available?
:
Yes