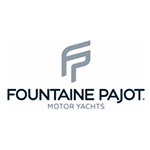 Motor Yachts range of power catamarans represents the pinnacle of boating excellence, combining outstanding offshore performance, cutting-edge technology and exceptional fuel consumption rates.
Designed by the renowned team of architects, Joubert Nivelt, Motor Yachts have capably taken on the world's toughest waters with more than 200 vessels delivered. These owners have conquered the English Channel, North Sea, Bay of Biscay, Gulf Stream, trade routes plus the Indian and Southern oceans in the last ten years.
All Motor Yachts have been designed with standard features across the range that maximize performance, comfort and safety.
Low fuel consumption
Motor Yachts outstandingly low fuel consumption is a primary attraction for many buyers who recognize the savings represented by the vessels' long range. A Motor Yacht offer a minimum of 40 percent reduction in fuel consumption when compared to the performance of a similarly-sized monohull.
The reduced drag created by the two hulls plus the efficient wave-piercing action contributes to greatly reduced rates of consumption, and extended range – up to one thousand miles with standard fuel tanks for the whole FP Motor Yachts range.
2. Exceptional performance, stability and comfort
Fountaine Pajot Power Catamarans are renowned for their superior performance in challenging conditions, while maintaining excellent stability and comfort while underway.  Higher speeds are achievable in tough conditions due to Motor Yachts' semi-displacement hull design. More of the hull remains in the water at higher speeds, softening the ride and reducing stress on the hull from wave impact.
FP Motor Yachts offer generous freeboard with reinforced hulls and bows to handle the toughest offshore conditions. The hull design offers an impressively dry deck at sea and a stable ride with minimal bounce and roll in dangerous and uncomfortable conditions.
Unlike many of its competitors, FP Motor Yachts are pleasantly quiet, with engines housed with their own dedicated access.
New Fountaine Pajot Motor Catamarans
Used Fountaine Pajot Motor Catamarans
Sorry, no properties found - try expanding your search, or
view all
.