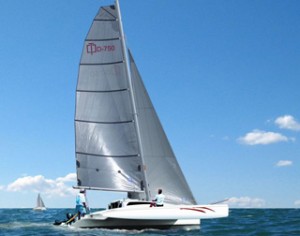 The New Corsair Dash 750 Mk II is compact, easily trailerable, and ideal for camp-style cruising and day sailing. It is tough, lightweight, sporty, exceptionally fast, responsive and safe.
Developed from the well-proven Corsair 24 Mk II, this new model incorporates the same innovative folding system and accommodation features of the previous model, with a modern rotating wing section mast, retractable alloy bowsprit and modern alloy dagger board, dagger rudder, plumb bow and larger volume floats.
With its open-space cabin, optional cruising amenities, spacious decks and nets, the Corsair Dash 750 is a highly mobile pocket cruiser; but it's the amazing performance—with 20-knots plus speed capability—that sets this new Corsair apart. The Corsair Dash 750 can fly an easy-to-handle asymmetrical spinnaker or screecher for exhilarating performance at a high plane.
The hulls, beams, floats and rig on the Dash 750 Mk II remain identical to the already successful Mk I. However, the deck has changed adopting the same styling as the Sprint 750 Mk II.
The interior has been further cleaned up, with the cabin having a clean, fresh, white lining (forward berth retains the carpet). There is a bigger galley and significantly more storage area. There's even a small amount of woodwork to give the interior a more sophisticated appearance, together with a number of other changes that enhance appearance and ergonomics.
Corsair Dash 750 Layout: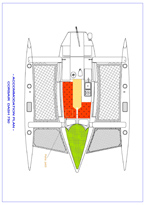 Year Built

:

NEW! Contact us for pricing

Brand/Builder

:

Corsair Marine

Model Name

:

Dash 750 Mk II

Hull Form

:

Trimaran

Hull Material

:

Fiberglass/GRP

Length Overall

:

24.30

Beam

:

8.2 to 18.2

Draft

:

1 to 5.5

Displacement

:

1,690

Mainsail Area

:

262

Working Headsail Area

:

166

Propulsion

:

Single Gas

Total HP

:

6

Fuel Capacity

:

5

Phone Number

:

Mat: 619.988.4748

Vessel Type

:

New Sail
Charter Program Available?
:
Yes
Shared Ownership Available?
:
Yes